PICker4
PICker4 has been designed by professionals who have more than 8 years experience in using various PICmicro right from 8 pins to 40 pins. PICker4 has been designed for the industrial engineers and engineering students. PICker4 comes along with built-in programmer, power supply and a user manual.
1 X 16 LCD module

6 numbers of High Bright 7 segment displays
4 x 4 matrix keyboard
4 pulled up keys
8 sourced indicating LEDís
On board NTC (Temperature Sensor)
On board and external ADC Interface
Pulse input (Counter interface)
CCP input (RPM measurement)
PWM output (Digital to Analogue)
Buzzer
RS232 and RS485 interface
IIC Serial EEPROM interface
On board Ir Interface
Accepts any AC voltage from 8 to 15 volts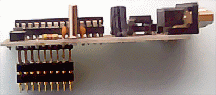 ICBLsim
These ICBL for 8, 14, 18, 28 and 40 pins PICmicro, simulate the hardware function of the 12C508, 12C509, 16C505, 16C84, 18F83, 16F84, 16F81x, 16C62x, 16C7xx, 16C87x,etc. Features like comparators are not available. Features of 16F873 and 16F877 are utilized to emulate/simulate the functions of the other PICmicro. 100% hardware simulation is not possible nor supported.
Plug the ICBL into the target socket IC base. Connect the supplied serial cable to the ICBL on one end and to the PCís COM port on the other end. Run ICBL.EXE program, select the COM port, select the HEX file to program and press PROGRAM. Press the reset button on the ICBL and the programming will commence and on completion, the target program will start immediately. This will save time in code development cycle.

PICmicro CD